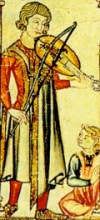 The sestina is a poetic form that is believed to have been invented before 1200 in Provence by a poet named Arnaut Daniel. Daniel was a member of the court of Richard the Lionhearted and was respected as one of the best troubadours of the time. Daniel's poem, Lo Ferm Voler,(follow the link for the poem in Provencal and an English translation) is the first known sestina. Following Daniel's use of the sestina, both Dante (1265 – 1321), author of The Divine Comedy, and Francesco Petrarch (1304 – 1374), poet and founder of humanism, adapted the form as well.

The form was revived in the 16th century by a group of French poets known as La Pléiade, and in particular by one of their members, Pontus de Tyard (1522-1605). After 16th-century poet Sir Philip Sidney's double sestina, "You Gote-heard Gods," there was a 300-year gap in English-language sestinas. Then, in the 19th century Ferdinand, Count de Gramont, wrote a large number of sestinas, and Algernon Charles Swinburne composed a remarkable rhymed double sestina "The Complaint of Lisa," with twelve stanzas of twelve lines each.

In the 20th century, Ezra Pound, W.H. Auden, T.S. Eliot, James Merrill, and others wrote them. Kenneth Koch and John Ashbery wrote great sestinas for the mimeographed magazines of the 1960s.

The writing of sestina poetry is popular today. McSweeney's, a literary magazine, recently began publishing poems for the very first time. The form of poetry published was limited to sestinas.