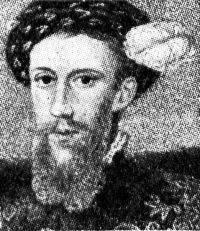 Henry Howard was born in 1517 in Hertfordshire, England. He was the oldest son of Thomas Howard, 3rd Duke of Norfolk, and Lady Elizabeth Stafford, and so was descended from kings on both sides of the family. He was educated at Windsor Castle, the British royal residence with Henry Fitzroy, King Henry VIII's illegitimate son, who later married his sister. Thus he was brought up in all the virtues and practices of chivalry, which find a large place in his poems. He continually bragged of his royal descent and thus was imprisoned on several occasions. Once he was charged with breaking windows in the city with a crossbow, to which he answered that he was "a figure of the Lord's behest," sent to warn the sinful city of her doom. Henry was eventually convicted of treason, and executed January 13, 1547.

Henry Howard introduced blank verse to English in translating two books of Virgil's Aeneid. Along with his friend Sir Thomas Wyatt, he adapted and popularized Petrarch's Italian sonnet form, bringing it over into English. Wyatt's and Surrey's poems were among the first lyrics from the courtiers' manuscript tradition to find their way into mass-production print in the form of the poetry collection traditionally called "Tottel's Miscellany" (1557).

Surrey was held in great literary esteem. The following is an example of a sonnet written by Surrey and published in the Miscellany.



Love that doth reign and live within my thought
And built his seat within my captive breast,
Clad in the arms wherein with me he fought,
Oft in my face he doth his banner rest.
But she that taught me love and suffer pain,
My doubtful hope and eke my hot desire
With shamefast look to shadow and refrain,
Her smiling grace converteth straight to ire.
And coward Love then to the heart apace
Taketh his flight, where he doth lurk and plain
His purpose lost, and dare not show his face.
For my lord's guilt thus faultless bide I pain;
Yet from my lord shall not my foot remove:
Sweet is the death that taketh end by love.